Doo-Wop Bros Orchestra
Welcome to the home page of our band! We are a Japanese Orchestra singing nice songs for your pleasure.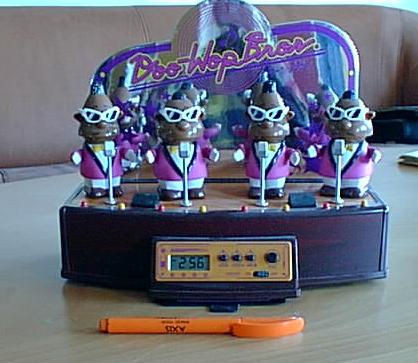 This Picture shows us, Dave, Jimmy, James and Roberto.
Who are the Doo-Wop Brothers?
We are a plastic Japanese orchestra playing nice songs for you. We have our different tones, so when we play we raise our hands and bow with our heads.We are dressed in pink tuxedos, wearing sunglasses (optional). We are very well synchronized with the music. The sound quality is built to sound like a 1950:s type Radiola radio. This sound is of course microprocessor generated and the engineers in the Japanese firm have worked real hard (and well) to create it.
Our life originated in Japan, at the Hakuhinkan TOYPARK in Ginza, Tokyo. Phone number to the store is +81 3 3571 8008.
Our Repertoire
We can play various songs. You may listen to some samples by downloading the files, either try:
In the mood (45 second, huge file recording, .wav format). Also in Real Audio format, .ra
We recommend .ra!
The Locomotion (30 second huge file recording, .wav format). Real audio format.
We recommend .ra!
Note! We have no real-audio server, so you need to download the files, then listen.
The device comes with a nice alarm clock, which you can set to play one melody at random every hour. You can use it for alarm, believe me you'll bound to wake up! But, most likely it will be for amusements.
Other songs on their repertoire are:
The Longest time
So much love
I can't stop loving you
She loves you
Happy birthday
Wedding March
7 others, only in Japanese...
If you want to see more, here are some alternate photos of us. Taken with the Sanyo new Digital camera, yet (April 1997) only available in Japan.
If you like what you have seen, you can always ask for getting your own unit. Just fill in the form: (this goes especially for Patrik Lindgren)
Good bye from all of us for now!

Also check out the Canned Wolf page. For Ricard!
Some related bands you might have interest in:
Created April 1997, Martin Gren. Please also visit our Fairy tale publishing company Askero. http://www.askero.se/. Unfortunately it is only available in Swedish.